Amy Ruffle
Making her screen debut in the 2012 feature film Border Protection Squad, written and directed by Ed Kavalee, Amy completed her training as a singer, dancer and actor with Showfit at Centrestage Performing Arts School, Melbourne in 2010. A trained classical vocalist, Amy has appeared on stage as a soloist performer in John Gibbard's Honey Tummy (2009) and Disney/Universal's Juke- Box Parade (2010). Amy has also had roles in Bare (2010) for the New Beat Theatre Co. and in Paul Kelly's The Last Train for the 2011 Cabaret Festival, performing opposite Bert LaBonte, Melissa Bergland and Melanie Vallejo.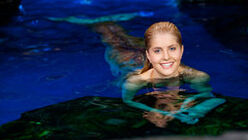 Ad blocker interference detected!
Wikia is a free-to-use site that makes money from advertising. We have a modified experience for viewers using ad blockers

Wikia is not accessible if you've made further modifications. Remove the custom ad blocker rule(s) and the page will load as expected.