Lucy Fry
Lucy's rapid career rise began in 2009, playing the lead in the short film Instead of Breakfast for Quinn Films and a featured role in a Thirsty Merc music video. Soon after, at the age of 18, she appeared in Jonathan M Shiff's H2O Just Add Water, before starring as a series regular in Lightning Point and guest starring in Reef Doctors, also for Jonathan M Shiff Productions.
Two weeks after touching down in Los Angeles in early 2013, Lucy has won the co-lead role in the upcoming feature film, Vampire Academy: Blood Sisters, a new film franchise based on the six-volume The New York Times best-seller young adult novel series by Richelle Mead. Cast from an extensive international search, Lucy will play the role of Lissa opposite Zoey Deutch (Beautiful Creatures).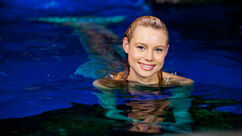 Ad blocker interference detected!
Wikia is a free-to-use site that makes money from advertising. We have a modified experience for viewers using ad blockers

Wikia is not accessible if you've made further modifications. Remove the custom ad blocker rule(s) and the page will load as expected.